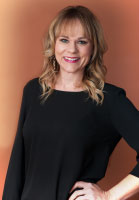 Melanie Secor
There's something about a beauty salon for me. I don't know if it's the smells of the product, where for a moment, if you close your eyes you could on a beach somewhere away form everything. Maybe it's the bright lights that make you feel like your on stage or all the wonderful people you could meet and possibly form lifelong friendships. Whatever it maybe, I knew from the first time I stepped into a salon as a little girl, that i was hooked!
I graduated from empire beauty school in 1996 and never looked back. I started my career at a chain salon, then a family salon and then worked my way up to the areas largest salon and day spa, all the while educating myself and building those lifelong friendships, of which I am deeply grateful.
In November of 2006 together with my husband, opened my first salon. We soon grew out of that space and in 2008 moved to a different location that is larger and has allowed us the opportunity to grow. My focus has always been to educate myself and others and to provide quality and value in every service.